Love God. Love People. Serve the World.
We are thankful you've found a place to belong here at Gracewood Community Church!

Our mission is to lead people into a growing relationship with Jesus Christ by intentionally doing life together in order to Love God, Love People, and Serve the World.

Because loving people is such an intricate part of who we are as Christ followers, we believe everyone should be involved in a small group.
Here at Gracewood we have several small group options. Some of our groups meet in the homes and some at church periodically throughout different seasons, and most recently we're meeting online due to social distancing guidelines. We hope you can find a group that's right for you!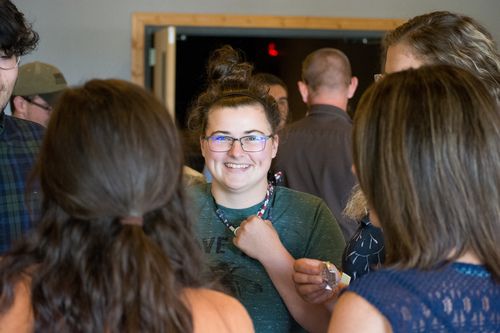 We are excited to provide multiple opportunities for all age groups to get connected this fall!
Mondays at 7pm
September 14th-October 26th
Miracles of Jesus explores all four Gospels with teaching from the perspective of multiple women. Discover the ways Jesus healed, provided for, calmed, and resurrected the people he encountered. In this seven-session study we'll meet over
Zoom
to talk about believing in the power of God who can accomplish anything. There's nothing too big or too small for us to bring to him.
When we take time to learn about the overflowing kindness Jesus demonstrated to all kinds of people through miracles during his time on earth, we realize that he is radically generous, compassionate, and honoring toward all people. As you watch teaching from the places in Israel where Jesus performed miracles and dig into God's Word, you will end the study in awe of the Messiah who relentlessly seeks, saves, and restores us.
Optional $25 Miracles of Jesus Study Book
Tuesdays at 7pm
September 15th-October 20th
If someone asked you to explain the gospel, what would you say? What is the good news of the Christian faith? Writing to the Galatians, Paul made it clear how easily we can be tempted to turn toward fraudulent gospels, especially those that teach we can earn God's love through our works. Though they may have the appearance of truth, they are lifeless and leave us empty in the end.
In this Book of the Bible series, we'll meet on Zoom and watch as Kyle Idleman dives into the book of Galatians. Through biblical study and engaging lessons, Kyle shows that true freedom is found in surrender, not self-dependence. Because our gospel is not one based on our works, but faith in the finished work of Jesus Christ.

Optional free personal study PDF download. Link sent in registration confirmation email.
Wednesdays at 7pm
September 16th-November 4th
What we think about Jesus matters. Our perception of Him shapes us—what we say, how we treat others, even what we think. If we paint Jesus as any less than who He is as supreme over all creation and savior of the world, not only does our theology slip, but the working out of our faith also suffers.

In this 8-session series, Louie Giglio will take us through the book of Colossians to help us form a complete picture of Jesus. Our group will meet via Zoom to watch the study together and discuss how we can live a life worthy of God.

Optional free personal study PDF download available. Link for download sent in registration confirmation email.
Thursdays at 8pm
September 17th-November 19th
It's crazy, if you think about it. The God of the universe loves us with a radical, unconditional, self-sacrificing love. And what is our typical response? We go to church, sing songs, and try not to cuss. God is calling you to a passionate love relationship with Himself. Because the answer to religious complacency isn't working harder at a list of do's and don'ts—it's falling in love with God.
The Crazy Love Study will help you and your small group to dive deeper into God's love through videos and conversation on
Zoom
.
Purchase of Crazy Love book by Francis Chan needed to participate in this study. Purchase on your own. $7-14 estimated cost.
Wednesdays at 6:45pm
September 16th-December 16th (No AWANA on November 25th)
Available online
Use these resources at your convenience
We want every child, everywhere, to be able to hear the gospel of Jesus Christ and engage in a lifelong journey of following Christ.
We're excited to be offering our AWANA program online this fall for our Sparks (Kindergarten-2nd grade) and T&T (3rd-6th grade) students.
We will have a large group time together and then split off into breakout
Zoom
Rooms in order to have a small group time and learn our memory verses.
Books will be provided at no cost.
We are excited to provide the same great AWANA curriculum for our Gracewood Babies and PreK kids!

We want to partner with our Gracewood Parents and share these amazing resources for you to utilize at home at your convenience. There are some great interactive videos and music for Puggles (babies) and Cubbies (PreK kids).

Let us know if you need any help accessing or using this material at home.

No purchase necessary. All material is provided at links for no cost.

GCC Youth (grades 7-12) is the student ministry here at Gracewood. We are currently meeting every Wednesday evening from 6:45pm-8:00pm upstairs in the youth room. We will provide our messages on our GCC Youth Youtube channel on Wednesdays at 7pm starting with our new series beginning September 16th. The atmosphere is welcoming, fun and casual. Our approach to following Jesus, however, is anything but casual. So come as you are and join us weekly for challenging messages, inspiring series and practical ways to grow and be effective in your walk with God.