Love God. Love People. Serve the World.
We are thankful you've found a place to belong here at Gracewood Community Church!

Our mission is to lead people into a growing relationship with Jesus Christ by intentionally doing life together in order to Love God, Love People, and Serve the World.

Because loving people is such an intricate part of who we are as Christ followers, we believe everyone should be involved in a small group.
Here at Gracewood we have several small group options. Some of our groups meet in the homes and some at church periodically throughout different seasons, and most recently we're meeting online due to social distancing guidelines. We hope you can find a group that's right for you!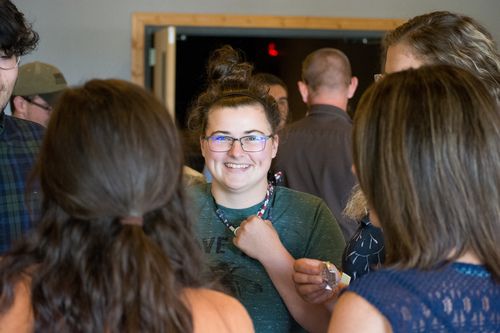 Church-wide Small Group Campaign
Spring Session Groups!
We are excited to provide multiple opportunities for all age groups to get connected this spring! There are some online and in-person options. Please know that all online studies will be conducted over Zoom and all in-person studies will be held with social distancing guidelines followed and facial coverings required.
In this series, we'll look at Jesus's unfiltered character and unwavering commitment to follow the will of the Father. Filmed on location in Israel, we'll experience Jesus' life of dependence, faith, denial, love, obedience, and pursuit of people. The end goal is that we too may reflect the life of Jesus unfiltered.

In this 6-session series we'll meet in various venues including in-person and online.

*No books or study guides required to participate in this small group.
We encourage you to participate in this study with others, but if one of these group times don't work for your schedule, we definitely don't want you to miss out on the opportunity to grow together! So, we hope you'll take advantage of the small group videos and participant guide. Follow along each week from the comfort of your own space. If you need free access to RightNow Media, click
here
.
Available online--Use these resources at your convenience
We want every child, everywhere, to be able to hear the gospel of Jesus Christ and engage in a lifelong journey of following Christ.
We're excited to be offering our AWANA program online this fall for our Sparks (Kindergarten-2nd grade) and T&T (3rd-6th grade) students.
We will have a large group time together and then split off into breakout
Zoom
Rooms in order to have a small group time and learn our memory verses.
Books will be provided at no cost.
We are excited to provide the same great AWANA curriculum for our Gracewood Babies and PreK kids!

We want to partner with our Gracewood Parents and share these amazing resources for you to utilize at home at your convenience. There are some great interactive videos and music for Puggles (babies) and Cubbies (PreK kids).

Let us know if you need any help accessing or using this material at home.

No purchase necessary. All material is provided at links for no cost.

GCC Youth (grades 7-12) is the student ministry of Gracewood Community Church.
We are currently meeting exclusively in-person on Wednesday's from 6:45pm-8:00pm at
Gracewood Community Church
.