Love God. Love People. Serve the World.
We are thankful you've found a place to belong here at Gracewood Community Church!

Our mission is to lead people into a growing relationship with Jesus Christ by intentionally doing life together in order to Love God, Love People, and Serve the World.

Because loving people is such an intricate part of who we are as Christ followers, we believe everyone should be involved in a small group.
Here at Gracewood we have several small group options. Some of our groups meet in the homes and some at church periodically throughout different seasons, and most recently we're meeting online due to social distancing guidelines. We hope you can find a group that's right for you!
*We have several groups on pause for summer break, but we do have three groups meeting during the summer. Check them out
below
!*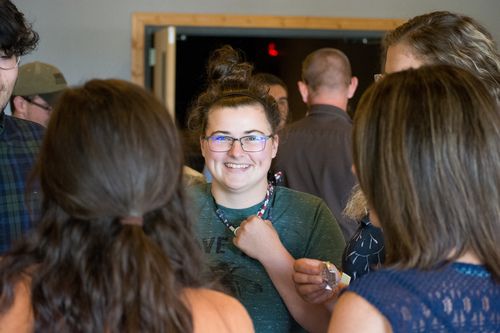 We are excited to provide multiple opportunities for all everyone to get connected this summer!
Worship together, build relationships, and pray for each other as you dive into the book of Romans with this small group of men. This Bible study will include sharing what God is placing on your heart through studying Romans and the leader will facilitate questions through the weekly Bible reading.



*No books or study guides required to participate in this small group. Just bring your Bible, paper, and pen.
Join a group of women who enjoy learning and growing together!

In this 12-part series, author and speaker Jennie Allen walks into the messy lives of the Corinthians and takes us through Paul's words to the conflicted church. We'll see how the truth of the gospel and the Spirit of God can empower us to choose to follow Jesus every day of our lives.

*No books or study guides required to participate in this small group. Just bring your Bible, paper, and pen.
Wednesdays at 7:00pm starting June 9th
Join a group of adults as we learn and grow together. We'll be studying Andy Stanley's "Bible for Grown-Ups".

As children, many of us received a leather-bound book full of long words and difficult names we couldn't pronounce. We were told everything in it was true and we should do our best to abide by its teachings. Then we grew up. What was oh-so-simple then is . . . well, it's not simple. Perhaps that's because we were taught Bible stories but not the story of the Bible. Big difference. In this 4-part series we'll be given a way to approach the Bible that begins with something other than "in the beginning . . ."

*No books or study guides required to participate in this small group. Just bring your Bible, paper, and pen.

GCC Youth (grades 7-12) is the student ministry of Gracewood Community Church.
We are currently meeting exclusively in-person on Wednesdays from 6:45pm-8:00pm at
Gracewood Community Church
.
We encourage you to participate in a small with others, but if one of these group times doesn't work for your schedule, we definitely don't want you to miss out on the opportunity to grow! So, we hope you'll take advantage of the many small group videos available for all ages on RightNow Media. If you need free access to RightNow Media, click
here
.
We want every child, everywhere, to be able to hear the gospel of Jesus Christ and engage in a lifelong journey of following Christ.
We're excited to be offering our AWANA program in-person this fall for our Puggles (Babies-4-years), Cubbies (PreK), Sparks (K-2nd grade), and T&T (3rd-6th grade).
We will have a large group time together and then split off into Rooms in order to have a small group time and learn our memory verses.
Books will be provided at no cost.